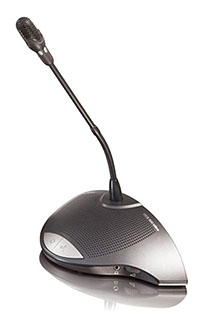 BOSCH 900 ULTRO – CCS-CMS short chairman unit
$550.00
Priority button for chairman with attention tone
Large light-touch buttons for easy operation
New elegant, stable casing with loudspeaker
New microphone specially develope by Bosch to deliver excellent speech intelligibility

Description
CCS 900 Ultro Conference System

Chairman Unit

CCS-CMS

with Short Microphone

Ergonomics design with high ecoustical performance

Priority button for chairman with attention tone 

Large light-touch buttons for easy operation

New elegant, stable casing with loudspeaker

New microphone specially develope by Bosch to deliver excellent speech intelligibility

CCS-CMS an exclusive design and high performance chairman unit, enables the user to function as chairman of a conference or meeting.

Similar in appearance to the Delegate Unit, the Chairman Unit CCS-CMS also includes a 'chairman priority" button. When pressed, the prioriry button causes all currently active delegate microphone to be temporarily or permanently muted, allowing the chairman to take control of the meeting. An optional chime can be selected to precede chaiman priority calls.

Controls and indicators

Microphone with red illuminated indicator ring, lights when the microphone is ON.

Two 3.5 mm stereo headphone sockets, one at each side, for headphone or recorder connection.

Built-in loudspeaker, automatically muted when the microphone is ON.

7-pole circular female socket for

loopthrough connection to the next unit

2m flying lead connection cable with sturdy moulded 7-pole circular male connector for connection to the previous unit or CU.

Rotary volume control for headphones only

Microphone ON/OFF push-button.

Interconnection

2 m (78.7 in) cable terminated in a moulded 7-pole circular connector for connection to delegate unit or CPSU

7-pole circular female socket for loop-through connection to delegate units

Two 3.5 mm (0.14 in) stereo headphone sockets

 

Technical Data

Mounting

table-top
(portable or fixed mounting)

Dimensions (H x W X D)

71 x 220 x 140 mm (2.8 x 8.66 x 5.51 in) (without microphone).
Height is 132 mm (5.2 in) with microphone in horizontal position

Length of microphone from mounting surface

313 mm (12.3 in)

Weight

1 kg (2.2 lb)

Colour (top and base)

charcoal (PH 10736)

Note: Both of the above internal switches are accessible by first removing a small plastic plate on the bottom of the chairman unit. If any delegate unit is permanently muted on activation of a 'chairman priority' button, the microphone must be reactivated using the 'microphoneon' button on the delegate unit.