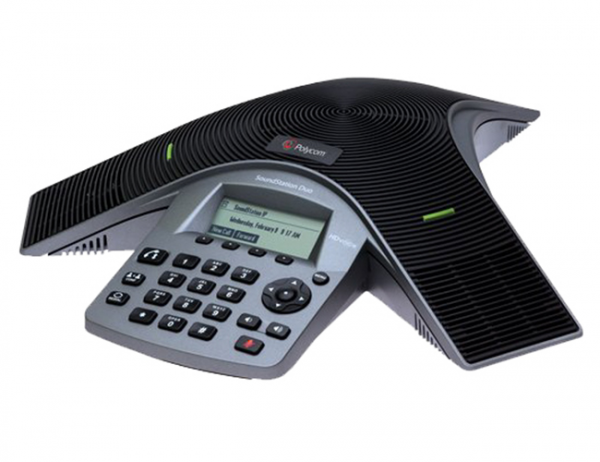 POLYCOM SOUNDSTATION DUO with NO Extension Microphones
$1,169.00
Support for analog and VoIP conference phone platforms
Interoperable with leading SIP-based PBX and softswitch platforms
24×7 reliability with automatic failover from IP to analogue
Easy administration with no boot server required
Up to 10-foot (3-meter) microphone pickup range. Optional expansion microphones for even larger room coverage
Polycom HD Voice technology
2.5mm port for connection to mobile phones and PCs for Internet dialing

Description
Polycom SoundStation Duo
The obvious choice for group audio conferencing
The only dual-mode conference speaker phone for small to medium size conference rooms.
The Polycom SoundStation Duo is a dual-mode conference speakerphone that offers both analog and VoIP call capabilities. This conference speakerphone provides exceptional deployment flexibility and best-in-class investment protection.
Designed for small to medium conference rooms, the SoundStation Duo is easy to set up and use. In VoIP call environments, the SoundStation Duo conference phone delivers the most robust, standards-based interoperability in the industry.
Polycom HD Voice technology. Full-duplex audio. The latest in echo cancellation and resistance to interference from mobile phones and other wireless devices. These features and more help the SoundStation Duo conference phone deliver unrivaled group-conferencing experiences without distractions.
The Polycom SoundStation Duo provides:
Best-in-class investment protection – operates in analog environments and supports the migration to VoIP conference calls
The broadest VoIP interoperability – compatible with a broad array of SIP call platforms to maximize voice quality and feature availability while simplifying management and administration
Strong, robust SIP phone software – leverages the most advanced SIP endpoint software in the industry, with advanced call handing, security, and  provisioning features
Lower deployment and administration costs – Web-configuration tool makes setup simple and eliminates the need for a boot server
Support for analog and VoIP conference phone platforms
Interoperable with leading SIP-based PBX and softswitch platforms
24×7 reliability with automatic failover from IP to analog
Easy administration with no boot server required
Up to 10-foot (3-meter) microphone pickup range. Optional expansion microphones for even larger room coverage
Polycom HD Voice technology
2.5mm port for connection to mobile phones and PCs for Internet dialing