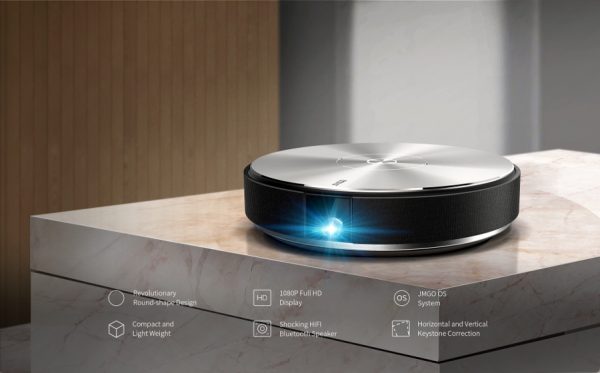 JMGO N7L (All in one Home Theatre System)
$900.00
All in one Home Theatre Projector w/ android
700 Lumens
Full HD (1920 x 1080), DLP
5000 : 1 Contrast ratio
HDMI / MHL
Auto Focus / Electric Focus
Horizontal / Vertical keystone
JMGO OS (android)
1 year warranty

Description
Affordable 5 Star Home Theater
Introducing the JmGO N7L
"Create your own home theater."




 




The elegant and beautifully designed JmGO N7L highlights classic shape and exquisite workmanship that JmGO is renowned for.

As with the entire JmGO line, the N7L also has excellent hardware configuration.

The JmGO N7L features 1080P full HD resolution and brightness up to 700 ANSI lumens.


The OS is based on Android with extensive customization – you can download and install Netflix,
Youtube, Facebook, etc.

 And the JmGO N7L also has high-quality cinema sound.
The JMGO N7L is a high brightness LED smart projector.
The N7L also supports vertical and HORIZONTAL keystone correction and automatic focus.
It combines the functions of an HD TV box, a HiFi Bluetooth speaker, and a long-life projector with low power consumption all-in-one.


With a WiFi connection, you can view online TV series, movies, and play games on a breath-taking giant screen.



It is 3D ready, and has versatile connectivity options so that you can connect it with other devices such as a speaker,
a wireless keyboard, a gamepad, an HD player, agame console, anotebook or a PC, a USB drive or a mobile hard disk.
What's more, it also supports screen mirroring through Happycast.