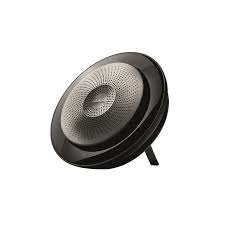 Jabra Speak 510+ MS Wireless Conference Speakerphone With Link 360 USB Adapter
$279.00

Description
Jabra Speak 510+ MS Wireless Conference Speakerphone With Link 360 USB Adapter
Jabra Speak 510+ MS Wireless Conference Speakerphone allows you to turn any conversation into a productive conference call in seconds with the Jabra Speak 510. An intuitive speakerphone that connects via USB and Bluetooth with crystal clear sound. All the conference call capabilities without the complexity. Enjoy clearer conversations for more efficient meetings
Hold meetings wherever you go
A compact portable design lets you hold conference calls anywhere
Optimised UC experience
Set up in seconds – compatible with all leading UC platforms
Bluetooth class 1
Easy Bluetooth® connection to tablets, mobile phones and headsets. Range of up to 100 metres on Class 1 devices.
Built-in omni-directional microphone
Hear and be heard with a 360 degree microphone that picks up sounds from any angle.
15-hour rechargeable battery
Up to 15 hours of talk-time on a single charge.
Built-in 3.5 mm headset port
Directly connect any 3.5 mm headset for private calls.
Digital signal processing (dsp) technology
Crystal clear sound without echo or distortion – even at maximum volume level.
Jabra link 360 usb adapter (bluetooth class 1)
Easy Bluetooth connection and call control integration with your softphone system.
What's Included
Jabra Speak 510+ Speakerphone
Jabra Link 360 USB adapter
Neoprene pouch
Quick Start Guide
Frequently Asked Questions
What is the difference between UC models and MS models?
The MS models are certified for Microsoft Skype for Business (Lync) support Microsoft Skype for Business in plug-and-play mode. These models support features for answering and ending calls, adjusting the volume and muting. If you are not using Microsoft Skype for Business, use the standard UC model.
Does it work with Mac and PC?
Yes. It works with both systems.
How many people is this conference speakerphone designed for?
The Speak 510 model provides in-room coverage for up to 4 people.
What is the difference between the Speak 510 and Speak 510+ models?
The Speak 510+ model comes with a Jabra Link 360 Wireless USB adapter while the Speak 510 model does not.24 months warranty