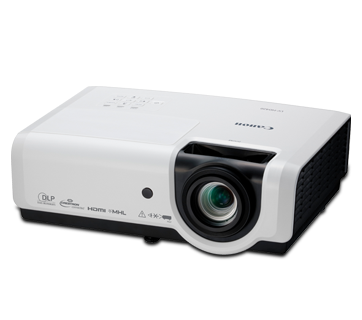 Canon LV-HD420
$1,999.00
4200 Lumens
Full HD (1920 x 1080), DLP
8000 : 1 contrast ratio
HDMI / MHL
3 years warranty
1500 hours or 120 days on lamp

Description
LV-HD420
New!
---
The LV-HD420 offers Full HD resolution for projection of sharper and clearer images. This lightweight, compact model weighs 3.4kg and makes it easy to move from one location to another. The LV-HD420 also features enhanced vibrant colour reproduction at a much lower operating cost. Together with its air-filter-free feature, it reduces maintenance requirements and minimizes downtime.
Brightness: 4,200 lumens
8000:1 contrast ratio
Full HD (1920 x 1080 pixels)
Bright & Great Resolution
The LV-HD420 is a portable model with 4,200 high luminosity and contrast ratio of 8000:1, making it capable to project sharp and crisp images. With the ability to project wide-screen images, the LV-HD420 is capable of projecting natural and beautiful images in 1080p resolution, making it suitable for academic and business applications.
BrilliantColor™ Technology
The LV-HD420 is equipped with BrilliantColor™ technology, which features a 6 colour wheel over the conventional 4 colour wheel, makes it capable of projecting richer colours and more naturally-depicted images. This enhancement is attributed to the addition of neutral colours – cyan and yellow, to the colour wheel to increase saturation.
MHL Interface
User can connect and project image directly from compatible smartphone or tablet via the MHL interface. This enhances flexibility as projection can be displayed directly from mobile device sources, for classroom and office presentations.
Type
Product type
Projector
Imaging device, number
DMD x1
DMD
Number of pixels
1920 x 1080 (1080P)
Size / Aspect ratio
0.65 type/ 16:9
Projection lens
Zoom ratio / Focal length / F value
1.5x / 20.7–31.1mm / F2.42–2.97
Projection distance
W: 1.23 – 9.85m
T: 1.39 – 9.72m
Projection distance for 100"
3.08 – 4.63m
Projection ratio (*1)
1.83:1 – 2.75:1
Operation
Zoom: manual, Focus: manual
Light source
Lamp type
Super-high pressure lamp for projectors
Lamp power (*2)
310 / 245W
Images
Optical system
Time division color extraction, sequential display
Brightness (*2)
4200 / 3360lm
Marginal lumination ratio
80%
Contrast ratio (*3)
8000:1
Amount of lens shift
65%, fixed
Electrical zoom (by length)
2x maximum
Keystone correction range
H ±30°, V ±30°
Image signal
Analog PC input
WUXGA / WSXGA+ / UXGA / SXGA+ / WXGA+ / WXGA / SXGA / XGA / SVGA / VGA / MAC
Digital PC input
WUXGA / WSXGA+ / UXGA / SXGA+ / WXGA+ / WXGA / SXGA / XGA / SVGA / VGA
Digital video input
1080p / 1080i / 720p / 576p / 480p
MHL input
1080p / 1080i / 720p / 576p / 480p / 576i / 480i
Component video input
1080p / 1080i / 720p / 576p / 576i / 480p / 480i
Video input / S-video input
NTSC / PAL / SECAM / NTSC4.43 / PAL-M / PAL-N
Terminal
Mini Dsub 15 x 2
Analog PC / Component video input
Mini D-sub 15
Analog PC / Component video output
HDMI / MHL
Digital PC / Digital video / MHL input
HDMI
Digital PC / Digital video input
RCA x 3
Video input / Audio-L / Audio-R
Mini DIN4
S-video input
Mini Jack x 2
Audio input x 1, Audio output x 1
Dsub9
RS-232C connection
RJ45
100BASE-TX / 10BASE-T
USB mini B
Service port
USB type A
Power supply terminal (1.5A)
Mechanics
Adjustable feet
Front: 1, Rear: 1 (the angle of elevation of up to 3°)
Speaker
10W monaural
Dimensions (W x H x D)
W: 314 mm, H: 112 mm, D: 231 mm
Weight
3.4 kg
Noise (*2)
40 / 36dB
Others
Power supply
AC100V – 240V 50 / 60Hz
Power consumption (*2)
410 W / 320 W
Standby power consumption (*4)
2.0 / 0.5 W
Operating temperature
5°C to 40°C
Accessories
Remote control LV-RC11, Computer Connection Cable, Power Cord
*1
Calculated value for 100" image
*2
Lamp mode is Normal / Eco
Brightness in Eco mode is only a calculated value, and is not guaranteed as specification
*3
Fully white: fully black, a lamp level changes by following a brightness characteristic of an image
*4
"Standby Power" function is set to Network / RS-232