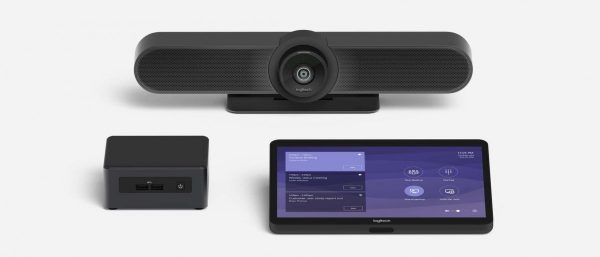 Logitech TAP (Microsoft TEAMS SMALL Meeting Room)
$5,409.00
Includes
Logitech Tap (Touch Controller)
PC Mount
Meetup
NUC – Teams Room PC for Logitech Intel NUC8i7BEH 8GB / 240GB / Win10
Jumpstart (Mandatory) Microsoft Support for 90 Days on TRS
2 year warranty


Description
ROOM SOLUTIONS FOR MICROSOFT TEAMS
Pre-configured systems for small, medium, and large rooms
---
TAP INTO MICROSOFT MEETINGS
Transform any space to a Teams meeting place with one-touch join, easy content sharing, and center of room control for Microsoft Teams and Skype for Business meetings
EVERYTHING YOU NEED
Logitech Room Solutions for Microsoft Teams include everything you need for video meetings. Available in small, medium, and large configurations, these pre-configured systems include a mini PC, Logitech conferencecam with RightSense™ technologies, PC mount with cable retention, and the Logitech Tap touch controller.
SOLUTIONS FOR EVERY ROOM
It's easy to deploy Microsoft Teams Rooms throughout the workplace. Just match a small, medium, or large configuration to each of your rooms, and then add accessories to suit your space.
CLEAN INSTALLATION
With 10 meters of reach, the plenum-rated Logitech Strong USB cable lets you locate Tap near participants for convenient operation while installing the host PC in a cabinet, beneath a table, or behind a display.
RESOURCES AND SUPPORT
Systems arrive neatly packaged and ready for installation, with printed documentation plus an online portal to guide the way. If you need assistance with initial configuration and integration with your Microsoft infrastructure, Logitech JumpStart service provides 90 days of access to additional resources and deployment experts with full system expertise.*
*Logitech JumpStart services are delivered in English only.
Small Rooms
Medium Room
Large Room
Conference Camera
Logitech MeetUp
Logitech Rally
(1 speaker, 1 mic pod)
Logitech Rally Plus
(2 speakers, 2 mic pods)
Logitech Tap Touch Controller

included

included

included

Logitech Strong USB 10m

included

included

included

PC Mount

included

included

included

Microsoft-Approved Mini PC

included

included

included

Windows 10 IOT Enterprise

included

included

Rally Mounting Kit

included

included

Rally Mic Pod Hub

included

Optional Accessories
Tap Table Mount
Tap Riser Mount
Tap Wall Mount
Logitech Strong USB 25m
Expansion Mic for MeetUp
TV Mount for MeetUp
Tap Table Mount
Tap Riser Mount
Tap Wall Mount
Logitech Strong USB 25m
Rally Mic Pod (up to 7 total)
Rally Speaker (up to 2 total)
Rally Mic Pod Hub
Tap Table Mount
Tap Riser Mount
Tap Wall Mount
Logitech Strong USB 25m
Rally Mic Pod (up to 7 total)
Rally Mic Pod Hub
Support Resources
Printed Setup Guide
Online Setup Portal
Logitech JumpStart
(90 days)
Logitech Support
Services
Printed Setup Guide
Online Setup Portal
Logitech JumpStart
(90 days)
Logitech Support
Services
Printed Setup Guide
Online Setup Portal
Logitech JumpStart
(90 days)
Logitech Support
Services
Warranty
2 year limited hardware warranty
2 year limited hardware warranty
2 year limited hardware warranty